Taro Cares PATIENT ASSISTANCE PROGRAM

TaroCares was created to provide financial relief for patients and their families for several of our medications. Using the TaroCares card at pharmacies can reduce the out-of-pocket expenses for patients by lowering their insurance copay or by reducing the total prescription cost for patients without insurance.
The TaroCares card is accepted in most pharmacies across Canada, with the exception of the province of Quebec where this type of support is prohibited by law.
Using the TaroCares card at pharmacies allows Taro to reimburse the pharmacy a portion of the medication cost on behalf of the patient in the same way as many other insurance plans would.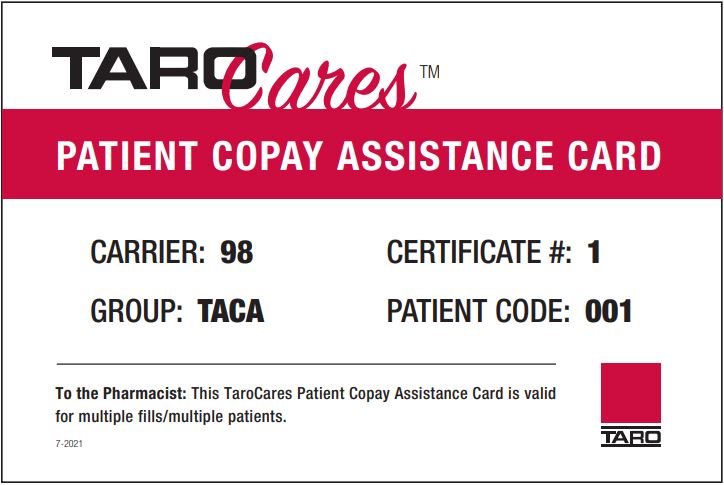 To download a copy of the TaroCares card click here
Follow these simple steps to use the TaroCares Card:
Print the TaroCares card or save it to your smartphone
Present the TaroCares card to your pharmacy, along with your valid prescription for one of our TaroCares supported medications
Your pharmacy will process the card with your prescription and your copay assistance will be applied immediately
The TaroCares card number does not change and can be used by any eligible pharmacy for any patient with a valid prescription for one of our supported medications. The TaroCares card will work for new and refill prescriptions without any patient enrollment and regardless of the patient's finances.
TaroCares card support is offered on the following medications:
TARO-BOSENTAN Tablets (Generic alternative to Tracleer®1)

TARO-CAPECITABINE Tablets (Generic alternative to Xeloda®1)

TARO-DASATINIB Tablets (Generic alternative to Sprycel®1)

DIN 02499282 / 02499304 / 02499312 / 02499320 / 02499339 / 02499347

TARO-DOXOrubicin Liposomal Injection (Generic alternative to Caelyx®1)

TARO-DEFERASIROX (Type J) Tablets (Generic alternative to Jadenu®1)

DIN 02507315 / 02507323 / 02507331

TARO-FAMPRIDINE Tablets (Generic alternative to FampyraTM1)

TARO-FINGOLIMOD Capsules (Generic alternative to Gilenya®1)
1. Data on File, Taro Pharmaceuticals Inc.
TARO and TaroCares are registered trademarks of Taro Pharmaceuticals Inc.
All brand names and trademarks referenced remain the property of their respective owners.